Indonesian Ambience at IndoChili
At IndoChili, we pride in serving you not only the best taste of Indonesian cuisine but also a peek into Indonesian culture. We accomplish this through an intricate and elaborate process of interior designing. We wish to present an Indonesian ambience that respect both the traditional heritage as well as the modern dynamism that Indonesia has. Traditionally, many of the elements are wood in nature. Hence, the warm and rustic feeling that we bring in via the traditional window pieces, wickers on ceiling, lightings, furnitures, and other surface areas. Indonesia was also influenced by the colonization culture and we bring this nuance via the metal antique lamps which you may also found in many Javanese palaces till this day. Another element that we wish to share is the homy feeling that you have when you visit an old house in Indonesia. One of the distinguishing factor is the traditional cement-tiles flooring. For our branch in Tanjong Pagar, we custom order our flooring and ship them in from Central Java. At the end of the day, it is more than just about business consideration when it comes to setting up our restaurant as our mission is to pass down our love of Indonesian cuisine and culture to the next generation all over the world. This year, IndoChili is happily designated as one of the 10 best restaurants with a view by the folks at BestInSingapore. Here is what they wrote about us: "They're the leading restaurant when it comes to Indonesian dishes, offering only the most authentic of cuisines. All of which are made with the freshest ingredients and spices." "IndoChili desires to represent Indonesia through taste and vision, which is why they proudly make use of a uniquely modern yet rustic Indonesian ambience, amplified by the elements they imported from the archipelago themselves."
Halal Food Delivery Service
Singapore!IndoChili now offers food delivery service island-wide. Whenever you need a great halal food from an authentic Indonesian restaurant, we are here for you! Award-winning Halal Indonesian restaurantIndoChili is the premium brand of Java Kitchen Group serving Singaporeans an exquisite authentic Indonesian cuisine. The group has been around since 1988 and has been faithfully serving only authentic Indonesian food in dozens of outlets in Jakarta and Singapore. IndoChili is proud to process its spices from scratch using only natural and fresh spices / ingredients. IndoChili does not add any MSG in cooking and strive to presents our customers the best taste of Indonesia - mostly from Java, Padang, and Bali. Food Delivery Services by IndoChili Below you may find a snapshot of the range of the delivery services that IndoChili are providing to Indonesian food lovers in Singapore. Please feel free to speak with our delivery team via our WhatsApp number +65 89228185 or call us at +65 64451766 to get a quote or assistance on your food catering needs. - Bento Lunch Box -IndoChili bento is an easy to order option that is suitable for a wide range of events in private and corporate settings. Some of the favourite bento menu are vegetarian set rice, chicken satay set rice, yellow rice rendang bento set, and seafood fried rice set. Please click the picture below to see more pictures of our bento selections or download our Bento Menu PDF. - IndoChili Ala-Carte Menu -IndoChili also delivers its ala-carte menu which would open you up to our favourite Indonesian dishes that can be enjoyed wherever you are. Our most popular dishes are: Tumpeng mini, Beef rendang, Gado-gado, Oxtail soup, Chicken satay, Tahu Telor, and many others. Click on the image below to see our delicious Indonesian food menu. - Nasi Tumpeng -No other Indonesian food is as grand and rich in meaning as this Nasi Tumpeng. This tray of delicious tradition can serve up to 30pax. IndoChili Nasi Tumpeng has been enjoyed by dignitaries and even by both Singapore and Indonesian government leaders. This royal menu will surely be fitting for your special events like: Hari Raya, wedding ceremony, baby shower party, house warming, and grand opening of offices or projects commencement. Find out more about the variety packages and sizes by clicking the image below. Kueh LapisIndoChili Kueh Lapis might be one of the most sought after in Singapore and has been featured in many magazines. Find out more about it by clicking on the image below. Please be warned that stocks are very limited. That is all we have to share about IndoChili food delivery service. Feel free to contact us or browse our website to find more information. Feel free to leave us a feedback on how we can serve you better at the contact us form below. Thank you!
11 Reasons Not to Try Indonesian Food ​
1. YOU'LL DROOL JUST THINKING ABOUT IT…​
Halal Restaurant in Singapore | Where should you go ​
Dinner in Singapore – Where should you go?​
We all love dining out. We all love to try out new foods, new places, gathering with friends and family and it would not be complete without a session of dining in a restaurant. Singapore is a very vibrant and busy city and there is everything for everyone. There are so many dining options in Singapore with so many varieties but one thing for sure is that there are always new places popping up in Singapore for you to try. What to expect when dining in Singapore at Indochili? Singapore is known for its fresh air, convenience and a very efficient city. Indochili restaurant has been carefully designed so that you can enjoy Singapore's fresh air and its convenient central location. When dining at Indochili you can expect to be able to enjoy authentic Indonesian food that is worth every bit of your penny. Indochili offers traditional Indonesian food that is suitable for everyone. Just like Singapore with its varieties, Indochili also offers a wide variety of dishes to cater everyone. Indochili proudly specialises in authentic traditional Indonesian cuisine. We want you to be able to experience the wonderful Indonesian cuisine just like its original taste if you were to dine in Indonesia. We want the world to be able to appreciate the true flavour of Indonesian food through our dishes. A good way to start is by discovering some of our most traditional dishes. In Indonesia, more often than not, we always have rice on our table. Most people are so accustomed to eating rice that they will feel that their meal isn't yet complete without a serve of rice on their plate. For true Indonesian style, try our rice dishes to see whether you are a true Indonesian at heart. Nasi Timbel – traditionally, nasi timbel is a "lunch-box" prepared for hard-working farmers by their loving wives. It's aromatic banana-leaf wrapped rice, combined with its tasty fried chicken, tofu, tempe, salted fish, and a bowl of sayur asem will surely make your day! Nasi Kampung – Literally, it means "village rice". It refers to the food that used to be eaten by peasants. However, it has developed into a delicacy that is loved by both wealthy and lowly. Our nasi kampung is served with omelette, urap, tempe balado, bakwan jagung, pickles and toasted coconut. Nasi Goreng Seafood – Voted as one of the best food in the world, this Indonesian street food is cherished by people from around the world. Our seafood fried rice is sauteed with prawns, squid, and topped with fried egg. Make sure you give these dishes a try for true Indonesian food experience. ​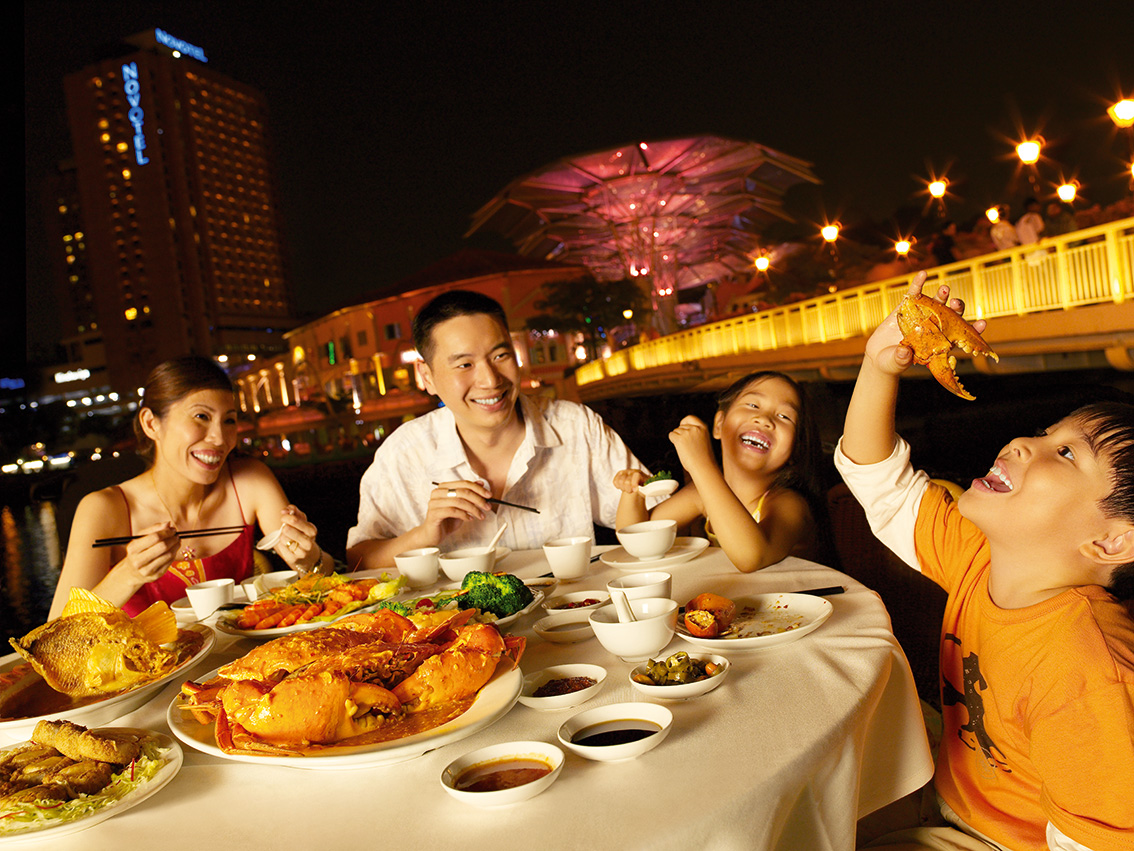 Singapore Restaurant – Best of The Best​
Singapore is well known for its top notch tourism industry. Named as one of the best holiday and travel destinations when it comes to convenience, vibrant night life, endless dining options and tourist attractions. It is quite mind boggling to be faced with so many choices when it comes to dining in Singapore. From authentic pocket friendly hawker foods to high end award winning restaurants, they are all here practically reachable everywhere. Singapore restaurant scene is always changing. There are always new places to try with your family and friends. As you know that with so many options out there, it is important to know the ones that are really live up to the hype. Here at Indochili restaurant, we strive to serve authentic Indonesian food as a way to appreciate the true Indonesian culture. The use of natural spices and herbs are incorporated in our dishes to make sure that they bring out the best flavour of our dishes. Everything is carefully prepared for your enjoyment to make sure that you get the complete dining experience. Not only that we are serious in the quality and taste of our food, we know the importance of ambience and providing the best service. Dining at Indochili Singapore restaurant will take you back to the modern Indonesia and leave you craving for more.
Dear food connoisseurs, we are happy to present you our Halal Food Blog – The premier resource for Halal food information in Singapore!​